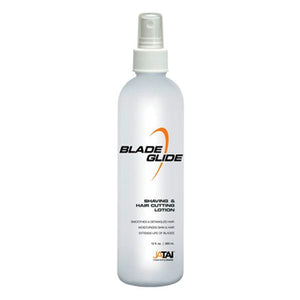 JATAI FEATHER BLIDE GLIDE 8 OZ.
Blade Glide is an innovative silky smooth lotion that instantly helps the razor, shears and clippers blades glide through the hair and on the skin.
It also acts as a light leave in conditioner, prevents static buildup, equalizes hair porosity to help pull color, provide thermal protection and calms frizzy curly hair.
When using a curling iron of flat iron , Pro Vitamin B5 and conditioners are infused into the hair keeping it manageable and helps prevent split ends.