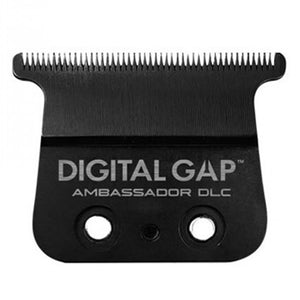 COCCO DIGITAL GAP AMBASSADOR BLADE
COCCO PROFESSIONAL DIGITAL GAP™ AMBASSADOR DLC BLADE / ROCKWELL HARDNESS 80

The DLC Blade is the most advanced blade on the market, available only from Cocco.
Made from one of the hardest substances on earth, this blade's DLC coating allows for lower coefficient of friction and lower blade temperatures.
The blade includes an oil reservoir to keep the blade cooler.
DLC Trimmer Blades offer micro-calibrated Digital Gap™ technology for close trimming.
This blade is precisely calibrated to stay sharper longer and have a longer life.
The DLC blade allows for unparalleled performance in comfort and reliability.
Suitable for a variety of hair textures and skin types.
80 Rockwell Hardness to keep its edge longer.
Fits Cocco / Babyliss Pro Trimmer (FX726 / FX787)